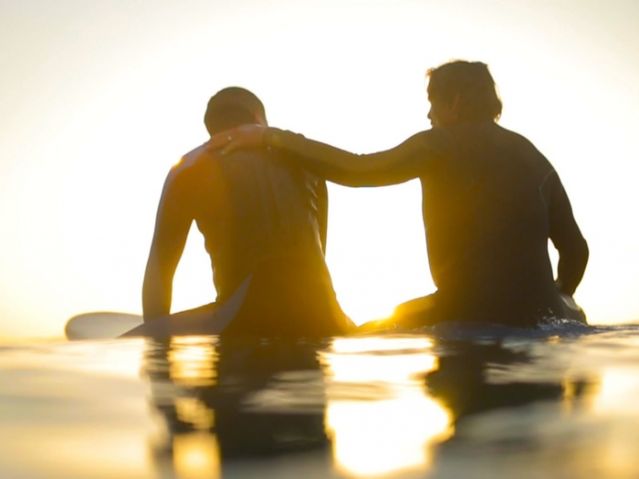 Josh Izenberg is a surfer and award-winning documentary film director based in San Francisco. Recently, Izenberg has been exploring the power of "surf therapy" and being in the ocean to alleviate symptoms of post-traumatic stress disorder (PTSD). Josh contacted me a few days ago to talk about his latest documentary, Resurface, which focuses on surfing and the ocean as treatment options for PTSD.
Resurface brings to light the therapeutic benefits that spending time in the ocean and learning to surf have for veterans with post-traumatic stress disorder. For this film, Josh brought together the same amazing team he used for SLOMO which includes: Wynn Padula, Scott Stillman, and director of photography, Owen Bissell.
Last year, I wrote a Psychology Today blog post, "Slomo and the Neuroscience of Being in "The Zone," about Izenberg's previous documentary. SLOMO is a short film about a neurologist named John Kitchin who quit his job over a decade ago in order to lead a more spiritual and less materialistic existence. Kitchin spends his days and nights rollerblading along San Diego's Pacific Beach boardwalk and has mastered the neuroscience and art of getting in "the zone" and staying there.
On Memorial Day, Josh and I spoke on the phone at length about his Resurface project. In some ways, the new film expands on the themes of SLOMO by looking at the mental health benefits of being in the zone and mastering a challenging skill that requires tremendous focus, as well as an intuitive understanding of the forces of nature.
One in Three Combat Troops Report Symptoms of PTSD
The statistics on post-traumatic stress disorder are alarming. One in three combat troops report symptoms of PTSD, but only about 40% seek help. Josh Izenberg is on a mission to raise awareness about this critical issue and to inspire veterans—and anyone else who is suffering from physical and psychological difficulties—to explore the therapeutic benefits of being in and around water.
Even decades after a traumatic event, someone with PTSD can have flashbacks that bring back a wave of emotions and physical sensations that mimic the intensity of when the incident originally happened. People with chronic PTSD often lose interest in things they used to enjoy. Surfing creates a new sense of purpose and passion for life.
Resurface explores the power of surfing to help heal the body, brain, and psyche from the wounds of PTSD. The film focuses on two non-profit organizations—the Jimmy Miller Memorial Foundation (JMMF) and Operation Surf—that use surfing and "ocean therapy" to help active duty Marines and veterans cope with physical and psychological trauma. These two organizations are at the forefront of using ocean therapy and surfing to combat PTSD. The mission statement of Operation Surf sums up the power of surfing and ocean therapy:
Operation Surf is an epic life-changing adventure for our wounded active duty military heroes—giving them confidence to move forward in a positive direction. Op Surf partners with Operation Comfort to bring this unique form of recreational rehabilitation to participants, exposing them to the healing power of the ocean through adaptive surfing taught by world-class instructors. Their week long all inclusive event provides an environment where participants work to overcome perceived limitations of their physical and psychological disabilities.
Five Reasons Surfing Helps Alleviate PTSD by Josh Izenberg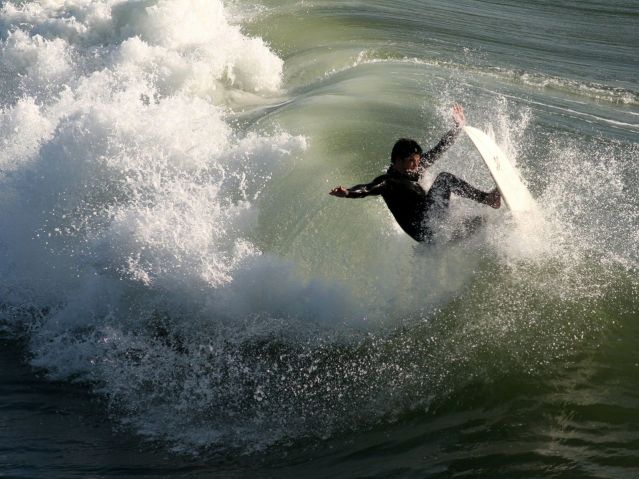 When Josh Izenberg and I were speaking on the phone about Resurface, I asked him why he thought surfing has so many benefits for veterans suffering from PTSD. He responded with five different reasons.
The first reason he gave was that the ocean itself has the cathartic ability to wash away negative emotions by putting them in a context of something much bigger and more powerful than someone's individual life existence. The second reason was that learning to surf puts you in the flow channel where you get into "the zone." When you're in the zone, the stress or trauma of your daily life seems to dissolve.
The third reason Josh gave for the power of surfing to alleviate symptoms of PTSD is that surfing requires a singularity of focus that literally takes your mind off everything else going on in your life. Surfing forces you to focus on the task at hand and stay in the present tense.
Fourthly, the adrenaline rush of surfing can recreate the novelty that many veterans may have grown accustomed to in combat but gets squelched by the ho-hum aspects of daily civilian life. Lastly, the physical exertion from a day of surfing is exhausting and literally wipes you out so that you sleep better at night. Insomnia is one of the most insidious aspects of PTSD. Surfing is an excellent drug-free sleep aid.
One of the people featured in the film is veteran Bobby Lane. While on tour in Iraq as a U.S. Marine Corps infantryman, Bobby Lane suffered two traumatic brain injuries when his platoon was hit by 5 roadside bombs in 11 days. Lane suffered from PTSD and sleepless nights filled with vivid nightmares that he self-medicated with alcohol. Bobby Lane's PTSD pushed him to the brink of suicide. Surfing became Lane's salvation.
Although Lane is from Texas, he traveled to California for a week of surfing with Operation Surf and credits the experience with saving his life. His original plan had been to commit suicide upon returning to Texas, but he says that surfing brought him newfound peace and a reason for living.
Lane describes his conversion experience saying, "Now I see it, if life gets too hard, there's always the ocean." One of the most poignant clips from the Resurface trailer is Bobby Lane describing how the "Ocean is both incredibly gentle and incredibly fierce." This juxtaposition of co-existing opposites captures some of the philosophical reasons spending time in the ocean is so therapeutic. Below is the complete Resurface trailer:
While speaking with Josh Izenberg about his personal relationship to surfing and the ocean, I was reminded of a recent Psychology Today blog post I wrote on the "awe"-inducing power of nature and its psychological benefits. The blog post, "The Power of Awe: A Sense of Wonder Promotes Loving-Kindness," was inspired by a recent study conducted at University of California, Irvine which found that being in awe of something greater than oneself (like the ocean) leads to prosocial behaviors.
As a "world-class" Ironman triathlete, I've swum in almost every ocean of the world and have experienced first hand the sense of wonder and transformative healing power of the sea. Whenever someone in the Resurface documentary describes his or her relationship to surfing and the water, their words exemplify the awe-inducing power of the ocean. Their descriptions remind me of Isek Dinesen's words of wisdom, "The cure for anything is salt water: sweat, tears or the sea."
Conclusion: Surf Therapy and Being in the Ocean Can Alleviate PTSD
If you, or someone you love, is suffering from PTSD, surfing and ocean therapy is a holistic and effective non-pharmacological therapeutic option. Even if you don't live near the ocean, you can arrange extended sessions with Operation Surf or the Jimmy Miller Memorial Foundation. These organizations are trailblazers in the development of innovative treatments for PTSD.
Josh Izenberg and his team are in the final stages of post-production and have a Kickstarter campaign to help complete the project and spread the word about Resurface. Showing your support for this film and telling friends and family about the exciting work that Operation Surf and JMMF are doing will help them continue to reach more veterans and other people with PTSD. Surfing and spending time in the ocean can help heal the physical and psychological scars for anyone living with PTSD.
If you are suffering from PTSD and are in crisis—you have a variety of options to get immediate help:
Call 911
Go to the nearest Emergency Room
Call the Suicide Prevention Lifeline 1-800-273-8255
Contact the Veterans Crisis Line: 1-800-273-8255, press 1 (text 838255) or click on this link Confidential Veterans Chat to speak with a counselor.